Melanie originally trained as a dancer from age three and knew from a very early age this was to be a part of her path in life. It took another twenty-seven years before this part of her dream would become realised.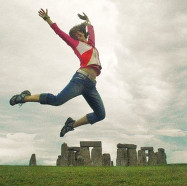 From the age of sixteen until twenty-four she struggled with extreme menstrual haemorrhaging which doctors could find no rational reasoning for. Just after moving to the USA and getting married (at twenty-four) she had a period that did not stop and put her in ER where (because she had lost so much blood) she needed a transfusion to save her life. This event set her on the journey to discovering the connection between her body, mind and emotions.
Over the next fifteen years, Melanie learnt about the strength of this body, mind, emotions connection. She made many changes in her system including dietary changes from vegetarian to eating meat to counteract chronic anaemia. She learned about the strength of being happy in one's life and the connection this had on her health. After five years of working at her marriage her health took a turn for the worse and she was diagnosed with cervical cancer and given six months to live. Listening to her body, heart and mind, she knew that now was the time to leave her marriage, go home to family and the UK, and attempt to heal herself holistically.
She achieved what doctors in the USA had said wasn't possible and healed her system of cancer. After four years of intensive self-healing, more dietary shifts, healing of family relationships, finding joy in life again, and a lot of soul searching, she received a clear test back and saw from her own system, the power of the body, mind, emotions connection.
Today, Melanie continues to follow the principles that helped her heal. Listening to her own instincts, constantly evaluating what she's doing in life and why she's doing it and always seeking out fun and joy. Her experiences with her own body and mind led her into the field of healing and helping others seek out what keeps them stuck, sick or, not living the lives they want.