Pole Power Fitness classes focus on building strength and flexibility, combining a series of dance and gymnastic moves around a vertical pole in grace and style.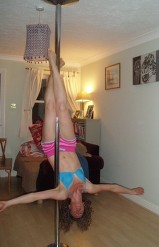 During a Movement Junkie Pole Power Fitness class, you'll develop and empower your femininity in a safe, supportive environment.  I'll encourage you to challenge your self-perception and maybe even move out of your comfort zone.  You'll work your whole body, improving your posture, coordination and muscle tone.
Come along regularly and you'll soon notice a change in your core and upper body strength: fantastic for a long, lean look.
Within Pole Power Fitness, we'll set a series of achievable goals based around specific moves.  These highly motivating sessions, set to a great music soundtrack, could inspire you like nothing that you've ever experienced before: what you thought you couldn't do at the start of the class may well be much easier at the end. You did it! You'll have something real to show for your focus and hard work.
If you're looking to combine an interval workout (proven to be highly effective as a fat burner), with muscular strength and endurance training, this is the class for you. There's a flexibility section, too, to help you stay supple and sculptured.
All women are beautiful and strong and I aim to challenge the negativity that may haunt you. Whatever your age, shape, size or fitness levels, Pole Power Fitness works on your inner and outer strength; it aims to fire up your self-esteem as a woman.  As you master the pole, you'll learn to develop a new, more positive relationship with yourself.  You'll begin to move with confidence and to see yourself as you really are: fit and fabulous.
Challenge your perception of pole dancing. Be fearless, fabulous and embrace your future fitness with Pole Power Fitness from Movement Junkie.
No classes currently running for Pole Power Fitness.
Please contact us for more info.